Carnival, Bay Area, circa 2001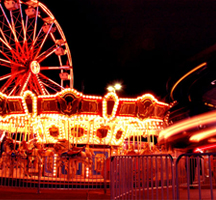 Summer Carnivàle
By: Mitchell Cooper
The carnival is coming into town! From June 25th until June 27th, the Hungaros Rides & Fair, will be setting up their carnival on the outskirts of San Francisco.
It will be located not too far from our neighboring city Oakland, California. The carnival is set to offer thrill rides, children rides, side shows, food, games, and some musical entertainment as well. Other attractions includes games of skill, strength, or luck. There'll even be an authentic fortunate teller's tent, that is if you believe in that type of stuff.
A carnival has not been to the Bay Area since the summer of 2001. Now three years later, the gypsy operated traveling carnival has gained a permit from the city to set up a three day run in the countryside outside one of America's major cities.
During the evening of the first and last days of the carnival there will be a massive fireworks show to signal the start and end of the festivities. The event is located approximately forty miles outside of the city, and would take between thirty minutes to a full hour to reach when traveling from the inner city.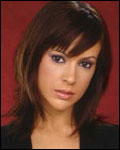 Ask Phoebe
Dear Phoebe,
Uh ... I'm an esteemed garbage woman. I take out the trash and ensure the world's, uh -- cleanliness. But these damned kids keep on kicking the trash cans. And I'm like - *bitch slap* 'Stop kicking those trash cans'.
*shakes head, bitterly*
Very stubborn. And I'm having trouble not cracking. Is this my life?
Signed,
Wastebasket Wonder...
Dear Wastebasket Wonder,
At times we all feel like we're going to crack under pressure at some point or another. All that does is remains us that we're simply human. A lot of people want to ensure that the world is a clean place and rid it of all its impurities --
Continue on pg. 2