Fashion Fiasco For Eva The Diva
By: Tristan Merteuil
Left Eva; Middle Arena; Right Lydia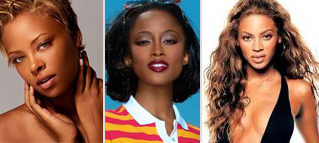 Eva showcased her new line Tuesday night in a glitzy fashion show at the Grand Flaxen Hotel. Her name illuminated the runway from above in the hotel's elaborate ballroom as beautiful models made their runs below. The designer's line included various styles for both men and women.
The show featured many fresh faces to the business, relying heavily on the star power of Lydia Emerson. However, Lydia was noticeably absent from the event. No word from her camp on why she missed the event.
The missing supermodel was not the only mishap of the night. One of the models, Lydia's replacement and rival Arena, had a wardrobe malfunction of the worst kind as she closed the show. Her dress came apart as she made her final run, exposing her naked body to the audience - including photographers.
Despite the show's problems, Eva's stylish line is sure to be a success. Her provocative and hip designs, modeled by flawless models, was a huge hit amongst the attending audience. The fashion foward trends captivated next season's style with ease.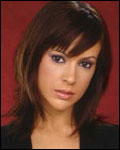 Ask Phoebe
continued from pg. 1
...to find out if she has any interests in your crush. If so then you need to decide what's more important; saving your friendship or letting it fall to ruins because you're not getting something that you want. If your friend is into this guy and he is into her one of the most selfless acts you can do is to step aside and let them be together.
Trust me there are plenty of other fish in the sea. And if their relationship lasts all but two seconds you still have your friendships intact, but if it's something that lasts...you can say you didn't hinder someone you care about from finding true love.
Now on the flip-side, if your friend could care less about this guy...I say just go for it. Tell him how you feel! You can't live your life off of what ifs, or else you'll always find yourself on the outside looking in. Just be true to yourself and be honest, you never know you might end up with what you've been waiting the longest time for!